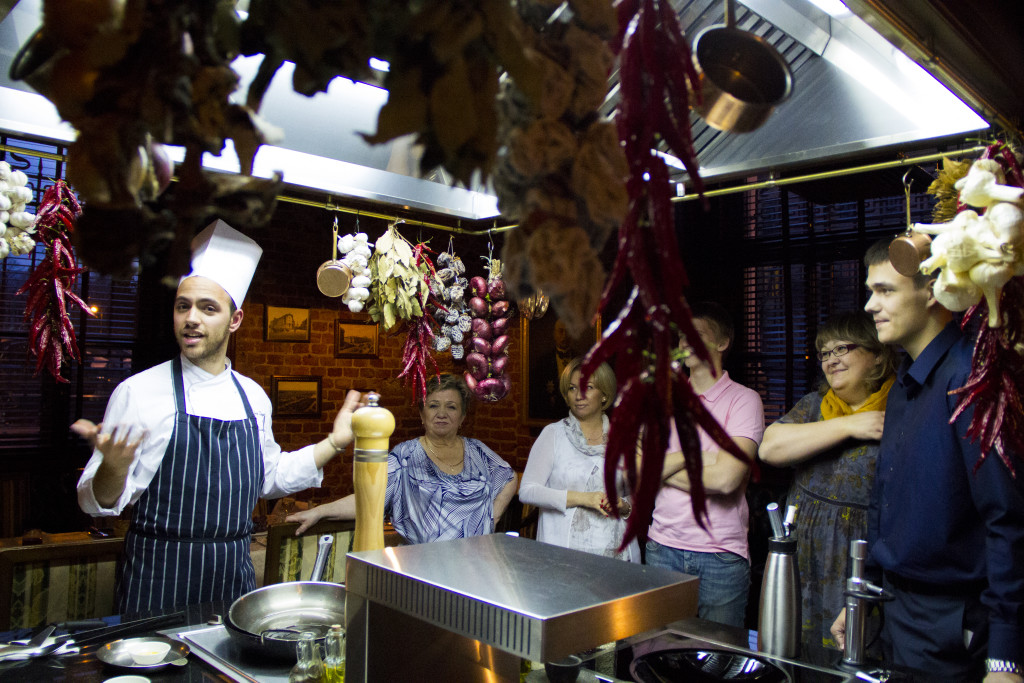 I spent 1 month in St Petersburg, Russia in the beautiful Hotel Palace Trezzini, and was treated to a private driver each morning.
The first two weeks during my time in Russia were spent in the restaurant Staraya Tamozhnya or Old Custom House, listed as one of the best restaurants in Russia. Staraya Tamozhyna is the restaurant of choice for Putin, and offers French Modern and Molecular cuisine.
During my time at the restaurant, I taught the chefs and changed and altered the dishes, as they were beautifully presented but lacking taste.
Out of the new dishes, the favourites seemed to be the Jerusalem Artichoke Mousse, Passion Fruit and Coffee, Pine Cone and Burned Ice Cream and 3 flavours of Lamb. I also introduced a welcome cocktail and pallet cleaner cocktail for the diners to enjoy. Diners were offered the option of a cucumber and lime shot or Perrier and Green Apple Sorbet.
I spent the third week in Russia planning a canapé event, which took place on the 9th May in Moscow for important members of the Government.
The canapés that I created were very well received and delicious! And the event was a major success.
Jasmine Smoked Scallop inside a Lemon Macaron
Foie Gras and Balsamic Magnum
Vol-au-Vent a l'Italienne
Date Sandwich and Orange Chocolate Mousse
The final week in Russia was spent working at a restaurant called Polenta, one of the top Italian restaurants in St Petersburg. Walking into the restaurant, I was shocked at the state of the service, chefs and menu. I had one week to turn it around and implement my proposed changes.
I cut the number of dishes that were advertised on the menu, and improved the quality of ingredients and created simpler dishes that were more traditionally Italian.
I introduced dishes including
Pinzini and Salumi(typical dish of my hometown Ferrara)
Baba al Rum(from Naples)
Ravioli Gorgonzola, Pears and Walnuts
Paccheri with Baby Squids
Branzino al Sale (Salt Baked Seabass)
I also introduced a 12 hour slow proofing for the pizza, which makes the dough softer and creates a neapolitan style.
And as with many Italian restaurants, Polenta now place a bread basket on each table as an appetiser and a petit four, served at the end, both are complimentary.
I have improved the service and I worked closely with the staff to ensure that they acted appropriately and welcomed diners efficiently and professionally. I also trained them in the art of Italian food and ingredients so they could discuss with the diners.
It was a lot of work, but the restaurant is now going great!
My time in Russia was incredible, and I thoroughly enjoyed working with each establishment and event. Not only was I able to teach my knowledge and experience, I also gained experience and knowledge of food and culture in Russia. I hope to return soon, and I shall certainly be in touch regularly with the restaurants and chefs.
A massive thank you to the restaurants and to Russia for having me!